MINT US STAMPS
INVESTING IN STAMPS.......... THE WORLDS BEST KEPT SECRET
First of all, Stamp Collecting is the worlds largest hobby. And on top of that mint condition US postage stamps have consistently out performed EVERYcommodity in return on investment and overall value. That includes stocks, bonds and gold. So why are stamps the worlds best kept secret? Maybe it's because we are so accustomed to licking and mailing them that we take them for granted. Did you know that a USED US postage stamp is still worth a minimum 5 cents as a collectable, and I'm talking a 2005 stamp. More importantly, a mint (unused)stamp is NEVER worth less than the face value....it's even better than money because as time passes it's even more valuable.....need I say more?
LINNS.COM The world's largest weekly stamp newspaper.
http://www.linns.com/howto/whatitsworth/whatitsworth.asp?uID=
l
Stamp Collection can be a business built from a hobby. Millions of people all over the world collect stamps as a hobby, and the number is growing every day. It is indeed an exciting and rewarding hobby, and it can also be extremely profitable.
The price of stamps varies with supply and demand due to the number of collectors increasing but the price of stamps is steadily rising, as the supply of stamps diminishes and more people want to acquire them.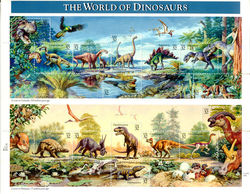 Most people start a collection for the pleasure and education just like any other hobby, but this hobby offers a financial reward as well, as collections experience a steady increase in value over the years.
How to start:
Some people start very early in life collecting stamps, it often begins as a gift of a small package of stamps given to a child, and the child becomes a collector for life. As the collection grows, some tools become essential:
* Stamp album
* Hinges
* Magnifying glass and tongs
They can be obtained from a stationary store or your local stamp dealer. You can find albums at any price, starting from about $5.00 to the most expensive one at about $200.00.
Stamps should always be handled carefully, because the condition is a very important factor in determining the resale value.
The various grades of stamps are: mint, very fine, fine, good and poor.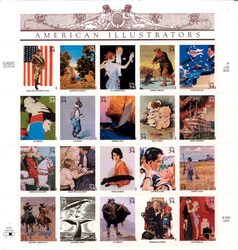 The World of Dinosaurs sheet depicts two scenes - one from Colorado during the Jurassic period (about 150 million years ago) and one from Montana during the Cretaceous period (approximately 75 million years ago.) James Gurney, the artist who created this design, worked directly with paleontologists and paleo-botanists to accurately capture the dinosaurs, other animals of the period, and appropriate plant life. One of the scientific advisers Gurney consulted with was prominent U.S. paleontologist Jack Horner. Horner's discoveries have significantly advanced the world's knowledge of dinosaurs. The scientist also served as a consultant for the Steven Spielberg films "Jurassic Park" and "The Lost World." Scheduled for release late in 1997, The World of Dinosaurs stamps were rushed for issue on May 1, to coincide with the release of the Steven Spielberg sequel to "Jurassic Park - The Lost World." This blockbuster movie thrilled audiences with its lifelike depiction of dinosaurs. First Day of Issue ceremonies for the stamps were held at the Dinosaur Valley Museum in Grand Junction, Colorado - located in the heart of the world-famous "Dinosaur Triangle." This Triangle, which extends from western Colorado to northeastern Utah, has produced a wealth of dinosaur excavation sites.
Specimens in outstanding condition often sell at many times their catalogue value, which is the reason not to mishandle any stamp, which could drastically reduce its value.
If you want to know if you have valuable stamps in your collection and are really serious about pursuing this hobby, you can buy the Scot's Standard Postage Stamp catalogue which lists every stamp in the world.
This is a three volume encyclopaedia and is the complete reference. You can also consult it at your local library, if you don't want to go to the expense for the time being.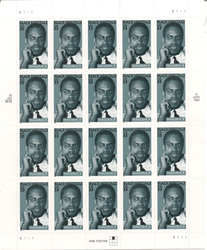 2001 American Illustrators 34 cent Scott # 3502. This set of stamps from the Classic Collection Series showcases the art of twenty American illustrators of magazines, posters, books, and advertisements.
To start your collection, ask everybody you know to save you stamps they get from different countries, also go through old letters and small boxes hidden in your attic. Chances are that you will be surprised to see how much you can find. Other cheap sources of supply are flea markets, garage sales and eBay.
Start swapping when you have doubles. There are many philatelic clubs all over the country and it would be very advisable for a serious collector to belong to one. This way you will become educated in this field and learn everything you can before you spend money on your collection. Stamp clubs also provide their members with possibilities to exchange and sell their stamps.
You should also read as much as you can about stamps by subscribing to a philatelic magazine or online, do a search for your closest club or magazine.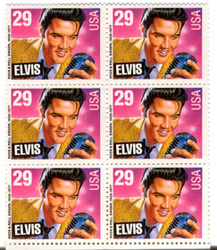 1999 Malcolm X, 33 cent stamp, scott # 3273. The 22nd installment of the Black Heritage series honors Malcolm X (1925-1965), the leader of a movement to unite black people throughout the world. A follower of Elijah Muhammad, leader of the Nation of Islam, he adopted the name "X" as a symbol of his stolen identity. Inspired by Orthodox Muslim beliefs, he later abandoned the idea that white people are inherently evil - a view which set him at odds with the Nation of Islam. Malcolm X was assassinated by three men, allegedly Black Muslims, while he was speaking at a rally.
Where to sell your stamps:
Stamps are like any other commodity, you can always go to a dealer who will offer you the current wholesale value of your stamps, but you can do much better by selling to other stamp collectors by advertising in magazines and newspapers specialized in stamp collecting, and on eBay. Check several current issues of those magazines, it will enable you to compare the ads with what you have to offer.
If you want to buy stamps as an investment, try to buy a few moderately expensive stamps a year. Always buy quality instead of quantity, and diversify, do not invest heavily in a single area.
It is my opinion that stamp collecting is one of the best ways - and safest - to keep up with inflation.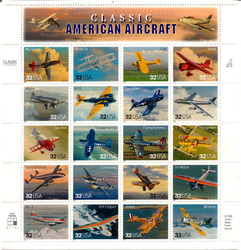 1993 Elvis stamp 29 cent, scott # 2721. In an effort to provide collectors with more exciting, contemporary stamp themes, the Postal Service created its new Legends of American Music Series. Highlighting the music our nation has come to be known for, these stamps featured Rock 'n' Roll/Rhythm & Blues artists, popular Broadway Musicals, and Country Western musicians. The new series began in January with the issue of the single Elvis stamp. "Oklahoma!" and Hank Williams followed several months later.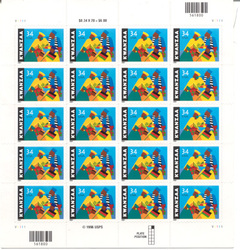 2001 Kwanzaa stamp 34 cent, scott #3548. The African-American cultural holiday of Kwanzaa was first celebrated on a U.S. stamp in 1997 with this same design. In 1999, the stamp was updated with the 33¢ denomination, and in 2001, it reappeared as a 34¢ stamp. It belongs to the Holiday Celebrations Series.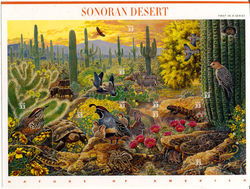 2001 Great Plains Prairie 34 cent stamp, scott # 3506. This pane of ten stamps is the third in the Nature of America Series issued to promote appreciation of North America's major plant and animal communities. The Great Plains Prairie covers over a million square miles in the center of North America. It's an enormous, grass-covered plateau formed by erosion of the Rocky Mountains. Unreliable rainfall, cold winters, hot summers, and strong winds notwithstanding, the Prairie is home to hundreds of species of birds and animals. Prairie dogs are important to the Plains' ecosystem, which includes badgers, burrowing owls, pronghorns, Prairie rattlesnakes, mountain plovers, and Great Plains toads. The bison is native to the region and is tied to its history. First hunted by Native Americans, the bison were decimated during European settlement and the building of railroads. Conservation efforts have brought the bison back from near extinction and have helped protect other threatened creatures of the Great Plains Prairie.
1999 Sonoran Desert 33cent stamp, scott # 3293. This pane of 10 stamps showcasing the beauty of the Sonoran Desert is the first installment of the new Nature of America series. The Sonoran Desert lies in the arid region west of the Rocky Mountains. It covers about 120,000 square miles of land in southern California, Arizona, and Mexico. Despite its harshness, life thrives in the Sonoran Desert. Cactus trees, paloverdes, desert tortoises, Gila monsters, and roadrunners are among the hundreds of plant and animal species that make their home there.