AFRICAN TRIBAL ART
AFRICAN MASK ~ SCULPTURES ~ TERRA COTTA ~ PAINTINGS
Welcome to my collection of African tribal art featuring a variety of ethnic groups. Items on display include wooden and bronze statues, masks, religious, ritual and domestic objects. Learn about the art, culture and history of each ethnic group.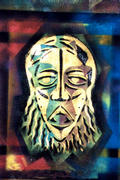 DAN MASK / West Africa- Ivory Coast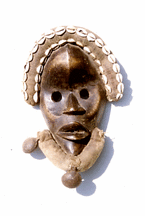 Dan masks are characterized by a concave face, a protruding mouth, high-domed forehead and are often covered in a rich brown patina. There are a variety of Dan face masks, each of which has a different function. They may be the intermediaries, who acts between the village and the forest initiation camp, may act against bush fires during the dry season, used in pre-war ceremonies, for peace-making ceremonies, for entertainment. Over time, many among them have lost their original function and have been recycled into contexts related to entertainment, emerging only for festivals or events organized for visitors. Nonetheless, the great masks live on, their even more rare appearances being reserved for times of tension, when it is important they may exercise their role of social control and their faculty to reduce conflict or settle legal wrangles.
SENUFO MASK- West Africa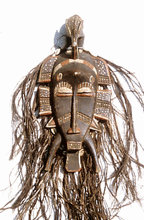 Several types of mask are used depending upon the occasion. The kpelie, a human face with projections all around, is said to remind initiates of human imperfection. Danced by men, these masks perform as female characters. Animal-head masks usually combine characteristics of several creatures--hyena, warthog, and antelope. A type of animal mask called waniugo has a cup for a magical substance on top; these masks blow sparks from their muzzles in a nighttime ritual protecting the village from sorcerers.
FANG ANCESTOR SCULPTURE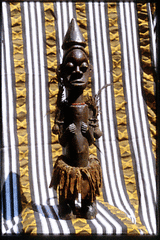 The statuary of the Fang can be classified into three main groups: heads on long necks, half-figures and full figures, standing or seated. Carved with great simplicity, at the same time they exhibit a high degree of sophistication in the coordination of bulbous forms. The neck is often a massive cylindrical form. The arms have various positions: hands clasped in front of the body (sometimes holding an object); held in front of the chest or attached to it; hands resting on the knees in the seated figures. The navel is often exaggerated into a cylindrical form. Legs are short, stunted. Usually there is a domed, wide forehead and the eyebrows often form arcs with the nose. The eyes are often made of metal roundlets. The bieri would be consulted when the village was to change location, when a new crop was planted, during a palaver, or before going hunting, fishing, or to war. But once separated from the reliquary chest, the sculpted object would lose its sacred value and could be destroyed.
African Tribal Art ~ Rare Stamps~Fine Art~Sports Cards~Coins
This site has thousands of african artifacts on display with descriptions.